Poet, writer and politician Honorato Barrera Buenrostro was born in the Lakeside town of Jamay (mid-way between Ocotlán and La Barca) in 1870 and died in Ocotlán in 1952.
He left his home town for Mexico City at a young age. In Mexico City, he studied and wrote alongside Amado Nervo (1870-1919) and Luis Gonzaga Urbina (1864-1934). Coincidentally, Urbina's own collection of poetry, Puestas de sol, includes "El poema del lago" ("The Lake Poem"), a lengthy poem inspired by a visit to Chapala. Barrera Buenrostro was also a good friend of the poet and novelist Rubén M. Campos, who had many links to Chapala.
Barrera Buenrostro subsequently returned to Ocotlán where he worked in commerce and as a telegraphist for the railway company. He later moved to Chapala, and was the Mayor (Presidente Municipal) of Chapala in 1924, during the time when Lic. José Guadalupe Zuno was the state governor (1923-1926).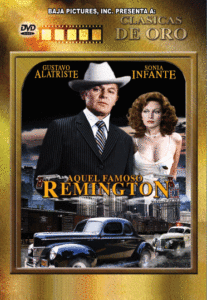 Barrera Buenrostro's work won various literary prizes, including ones awarded in Aguascalientes, Morelia and Mexico City. His best known works are a book of poems, Andamio de Marfíl (1947), and a novel, El rémington sin funda (1947).
The novel El rémington sin funda (1947) is based on the life of Rodolfo Álvarez del Castillo. Nicknamed "El Remington", Álvarez del Castillo was a famous pistol-packing womanizer of the 1930s, who eventually fought a duel with a soldier in which both men lost their lives. Álvarez del Castillo's life story became the basis for at least two Mexican films: ¡Se la llevó el Rémington! (1948), starring charro singer Luis Aguilar, and Aquel famoso Remington (1982), directed by Gustavo Alatriste.
Sombrero Books welcomes comments, corrections or additional material related to any of the writers and artists featured in our series of mini-bios. Please use the comments feature at the bottom of individual posts, or email us.

Tony Burton's books include "Lake Chapala: A Postcard History" (2022), "Foreign Footprints in Ajijic" (2022), "If Walls Could Talk: Chapala's historic buildings and their former occupants" (2020), (available in translation as "Si Las Paredes Hablaran"), "Mexican Kaleidoscope" (2016), and "Lake Chapala Through the Ages" (2008).