Captain H. E. William ("Bill") Strange OBE was Director of Naval Information in the Canadian Navy before "retiring" to Mexico with his wife, Jean, in January 1965 (having bought a house in Chapala Haciendas in December 1964) . He then proceeded to research, write and produce several radio documentaries about Mexico for the Canadian Broadcasting Company (CBC).
Strange was born in Corazal, British Honduras (now Guyana) in 1902. His father was the then District Commissioner. He attended a boarding school in the U.K. from the age of seven. When the first world war broke out, Strange became a cadet in the Royal Navy, and undertook training at Osborne and Dartmouth. Following his discharge in 1918, due to a vision problem, he moved to Trinidad, where his parents were then living and worked in that country's oil fields. After Trinidad, he took teaching positions in England and Egypt.
Strange emigrated to Toronto, Canada, in 1929. During the next decade he worked in a variety of jobs related to sales, advertising, writing and public relations but found most success in writing radio scripts and plays. Among his weekly productions were "Who's Who in Music"; "Let's Disagree"; and "Echoes from History". In 1935 he published a novel, Sunset in Ebony, based on his experiences in Trinidad.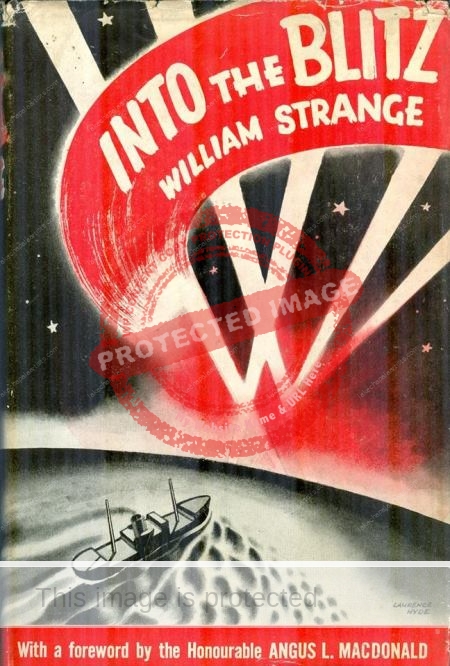 When the second world war began in 1939, Strange used his skills to focus on radio programs designed to assist the allied cause. After producing about 20 half-hour shows in a series for CBD titled "They Shall Not Pass", he started a long-running series named "Carry on Canada". In 1941 he visited England as a CBC war correspondent "to look at the blitz", collecting material for another book (below) and for several radio specials, one of which became the first Canadian program to win the top award at Ohio State University's Institute of Education by Radio. Royalties from the book all went to the Navy League of Canada.
Strange joined the Royal Canadian Navy (RCN) in 1942 as an information officer. He served as Director of Naval Information from late 1945 until his retirement in February 1959. Much of his time with the RCN was spent making radio broadcasts.
After the second world war ended, Strange established the RCN's first peace-time public information organization. During his time with the RCN Strange produced dozens of radio plays, booklets and articles as well as several books, in addition to documentary series, including a tri-service show called "Comrades in Arms". In 1948 he founded The Crowsnest, the magazine of the Directorate of Naval Information.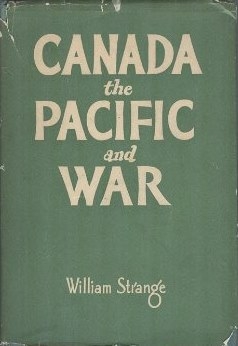 William Strange wrote several books related to Canada and the second world war, including Canada, the Pacific and War (Toronto: Thomas Nelson, 1937); Into the blitz; a British journey (Toronto: Macmillan, 1941); The Royal Canadian Navy, 1942-1943 (Canadian Print and Lithographing Co, 1943); and Ships Mean Security (Toronto: The Navy League of Canada, 1945).
For his many and varied services, Captain Strange was awarded the OBE in January 1946.
Captain William Strange married Jean Taylor in 1950. In his memoir, Here Be Dragons: Telling Tales Of People, Passion and Power, Peter C. Newman pays tribute to Captain William Strange for having been an outstanding mentor to him in the early 1950s. Newman also refers to Strange's wife, Jean, "his wonderful architect wife".
From 1959 to 1961, the Stranges were in Jamaica where Bill was writing and training staff for the Jamaica Broadcasting Corporation.
In 1962, the couple took two trips to the Yucatán Peninsula collecting information about the Maya civilization for a CBC special. Shortly afterwards they decided to relocate to Mexico and bought a home in Chapala Haciendas, from where they began to explore the rest of Mexico, working on new projects for the CBC. A brief note in the 30 April 1964 edition of the Guadalajara Reporter informs us that "Capt. and Mrs William Strange have returned from a trip to Mexico City, Tlaxcala, Cholula and other spots. He's doing research for a program on Cortés and the conquest of Mexico for Canadian Broadcasting Corporation, Toronto."
From a lengthier piece in the same newspaper the following year (18 November 1965) we learn that the Stranges have returned to Chapala Haciendas after spending the summer settling affairs in Canada. Captain Strange's 90-minute radio documentary about Hernan Cortés' conquest of Mexico, "The Bold Ones", was being broadcast by the CBC national network. Strange had already completed a new project, the story of Emperor Maximilian and his wife Carlota, which the CBC had agreed to produce and broadcast.
In 1966, Strange entered an "experimental film" entitled "Dimensions" into a contest held as part of Guadalajara's annual Fiestas de Octubre celebration. The film won "Capitán William Sprange" (sic) a silver sombrero.
It was in 1966 when Strange was appointed to the first board of directors of the newly-formed Anglo-Mexican Institute (IAM) in Guadalajara. Less than a year later, he became president of the IAM's governing council and he was still actively involved in IAM affairs when it celebrated its 10th anniversary in September 1976.
Captain William Strange, OBE, CD, RCN, died in Chapala in 1983.
Sources
Anon. "Founder of The Crowsnest Retires." The Crowsnest, March 1959.
Guadalajara Reporter 30 April 1964, 2; 18 Nov 1965, 6;
Informador 11 Sep 1966; 28 Oct 1966; 3 July 1967; 11 Sept 1976
Peter C. Newman. 2005. Here Be Dragons: Telling Tales Of People, Passion and Power. McClelland & Stewart.
William Strange. 1941. Into the blitz; a British journey. Toronto: Macmillan.
Captain William Strange Papers (Director of Naval Information): Speeches and Related Materials in National Defence Headquarters Directorate of History and Heritage.
Sombrero Books welcomes comments, corrections or additional material related to any of the writers and artists featured in our series of mini-bios. Please use the comments feature at the bottom of individual posts, or email us.

Tony Burton's books include "Lake Chapala: A Postcard History" (2022), "Foreign Footprints in Ajijic" (2022), "If Walls Could Talk: Chapala's historic buildings and their former occupants" (2020), (available in translation as "Si Las Paredes Hablaran"), "Mexican Kaleidoscope" (2016), and "Lake Chapala Through the Ages" (2008).