François de Brouillette was an accomplished artist, art restorer and poet. Born in Vermont on 22 April 1906, de Brouillette died in Santa Barbara, California, on 12 February 1972.
De Brouillette was especially well known during his lifetime for his sensitive and striking portraits.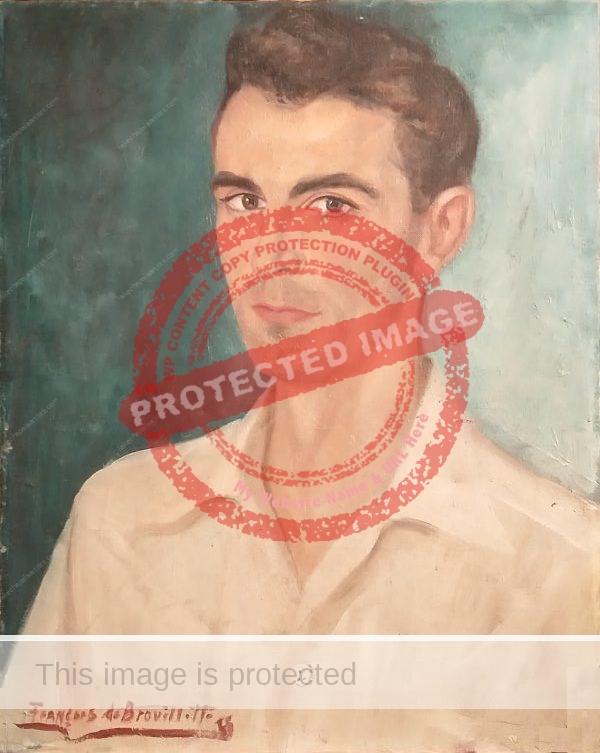 This painting was shared with us by a reader who found it among the effects of her grandfather, Arthur D. Dahl, after he died earlier this year at the age of 102. It is a classic de Brouilette portrait (16″ x  20″ on canvas). The date is indistinct but could perhaps be either 1935 or 1955?
Dahl, who took an art class at Pacific Union College, was born in Alberta, Canada, but lived much of his life in California, residing in Lodi, Stockton and Delano from the early 1940s through the early 1960s.
The portrait is unlikely to have any direct connection to Lake Chapala but if any reader recognizes the young man in the painting, please get in touch!
De Brouillete is known to have visited Lake Chapala numerous times over a period spanning more than forty years, and definitely painted the lake, probably on numerous occasions:
Acknowledgment
My thanks to Dana Jordan for sharing images of this painting, found in the collection of her grandfather.
Comments, corrections or additional material related to any of the writers and artists featured in our mini-bios are welcomed, via email or via the comments feature at the bottom of individual posts.

Tony Burton's books include "Lake Chapala: A Postcard History" (2022), "Foreign Footprints in Ajijic" (2022), "If Walls Could Talk: Chapala's historic buildings and their former occupants" (2020), (available in translation as "Si Las Paredes Hablaran"), "Mexican Kaleidoscope" (2016), and "Lake Chapala Through the Ages" (2008).