John Macarthur ("Jack") Bateman was a painter, author and architect who was born on 9 October 1918 in Pittsburgh, Pennsylvania and died on 15 March 1999. Bateman moved to Ajijic with his wife Laura Woodruff Bateman and three young children in 1952; the couple quickly became pillars of the local community, making exemplary contributions to the local social, cultural and artistic scene.
The Batemans were living in New York City prior to moving to Mexico. They responded to an advert in The New York Times which offered a home in Ajijic, together with five servants and a boat, for the princely sum of 150 dollars a month.
Jack Bateman studied architecture at the Carnegie Institute of Technology (now Carnegie Mellon University), prior to be called up for military service in January 1942. He served in the U.S. Navy from 21 January 1942 to 22 September 1945 at various Naval Air Stations, including a spell in North Africa flying submarine-hunting dirigibles. After the war, he completed his studies and then set up an industrial design studio in New York to produce, among other things, molded architectural elements made of plaster.
According to a blog post by Jack's son-in-law Tom Vanderzyl, this led to Bateman having an unexpectedly significant impact on the work of the great German-born abstract expressionist artist Hans Hofmann who was living on the floor below:
…the painter/architect John MacArthur Bateman had a studio just above Hans Hoffmann (sic). In his studio, John poured large heavy 55-gallon drums of plaster into molds for architectural elements. It seems one day a plaster mold broke and sent 55 gallons of plaster pouring across his wooden plank floor that was also the ceiling of the studio under him, and the plaster dripped through the ceiling of the studio below. At the time, Hans had all of his paintings out looking them over for his upcoming show. Hans shouted upstairs in German for it to stop and that he needed help covering his work from the dripping plaster. Bateman along with his klutz brother-in-law, who had dropped the mold in the first place, came down to help. They used blankets and canvas in an attempt to cover the paintings, but it was too late. The plaster was setting up and the damage was done. Bateman put the best spin on it by telling Hans that his paintings needed that texture made by the pressed fabric and wet plaster and that the new tactile surface was in many ways more interesting. Now, he only needed to paint over the white plaster to get a far more interesting surface. Hans Hoffmann's show was a success, and he would pop up to borrow plaster from time to time and talk with Bateman about materials.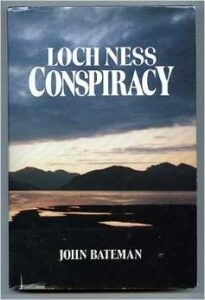 For the first few years in Mexico, Jack Bateman commuted back and forth to New York, spending about one week a month in the U.S. At home in Mexico, he spent time on his art and began to write. He authored five books including Loch Ness Conspiracy (New York: R. Speller & Sons, 1987), as well as a play, Caldo Michi, first performed in Ajijic in November 1998.
When the Lakeside Little Theater needed a new home in the mid-1980s, Bateman was a strong supporter of a plan to build a purpose-built facility on land donated by Ricardo O'Rourke, and acted as architect. The theater opened in 1987 and became the permanent home of Mexico's most active English-language theater.
At various times sailor, artist, pilot, architect, writer and marketing consultant, whatever he turned his mind to, Jack Bateman made many unique contributions to the world.
For her part, Laura Bateman was a patron of the local arts scene in Ajijic, opening the village's first purpose-built gallery, Rincón del Arte, at Hidalgo #41, Ajijic in about 1962. (For a couple of years prior to that, she had arranged shows in her own home). Rincón del Arte, which ran for many years, had monthly shows, featuring dozens and dozens of artists.For example, Whitford Carter exhibited at Rincón del Arte in both February 1967 and August 1968, while Peter Huf and his wife Eunice (Hunt) Huf held a joint exhibit there in December 1967 .
Jack and Laura Bateman's eldest daughter, Alice M. Bateman, studied in Guadalajara, London (U.K.), New York and Italy before becoming a successful professional artist-sculptor based in Forth Worth, Texas.
Sombrero Books welcomes comments, corrections or additional material related to any of the writers and artists featured in our series of mini-bios. Please use the comments feature at the bottom of individual posts, or email us.

Tony Burton's books include "Lake Chapala: A Postcard History" (2022), "Foreign Footprints in Ajijic" (2022), "If Walls Could Talk: Chapala's historic buildings and their former occupants" (2020), (available in translation as "Si Las Paredes Hablaran"), "Mexican Kaleidoscope" (2016), and "Lake Chapala Through the Ages" (2008).