Writing under the pseudonym Ross MacDonald, Kenneth Millar (1915-1983) wrote The Zebra-Striped Hearse (Alfred A. Knopf, New York, 1962). The Zebra-Striped Hearse is a mystery novel, with several chapters (chapters 9 to 12) set in the village of Ajijic on Lake Chapala. The easy-to-read novel, with its largely accurate depiction of the Old Posada Ajijic, followed Millar's visit with fellow author John Mersereau in the late 1950s, or very early 1960s. The novel won the Mystery Writers of America's  Edgar Award for Best Novel in 1963,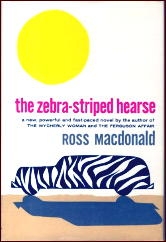 Kenneth Millar was born in Los Gatos, San Francisco on 13 December 1915, but was raised in Vancouver, Canada, where he met and, in 1938, married Margaret Sturm, also a writer. His wife achieved her own success writing as Margaret Millar.
Kenneth Millar had begun post-graduate work at the University of Michigan (where he had completed his undergraduate degree) and published his first novel, The Dark Tunnel, before serving his country as a naval communications officer from 1944 to 1946, Following the war, he returned to Michigan to complete his doctorate.
Millar went on to write numerous novels, with Ross MacDonald being only one of several pseudonyms he used during his distinguished writing career. Later in life, he was later elected President of the Mystery Writers of America, and given their Grand Master Award. He also won the Silver Dagger Award given by Mystery Writers of Great Britain. He is best known for his popular series of novels, set in southern California, featuring private detective Lew Archer.
Millar passed away in Santa Barbara, California, on 11 July 1983.
Other twentieth century novels set largely, or entirely, at Lake Chapala include:
Sombrero Books welcomes comments, corrections or additional material related to any of the writers and artists featured in our series of mini-bios. Please email us or use the comments feature at the bottom of individual posts.

Tony Burton's books include "Lake Chapala: A Postcard History" (2022), "Foreign Footprints in Ajijic" (2022), "If Walls Could Talk: Chapala's historic buildings and their former occupants" (2020), (available in translation as "Si Las Paredes Hablaran"), "Mexican Kaleidoscope" (2016), and "Lake Chapala Through the Ages" (2008).