Vida Hills Shepard (1885-1972) was a journalist who spent several winters in Chapala in the mid-1950s. Shepard was a regular columnist for The Chico Enterprise-Record in California, and several of her columns make reference to her multiple visits to Chapala.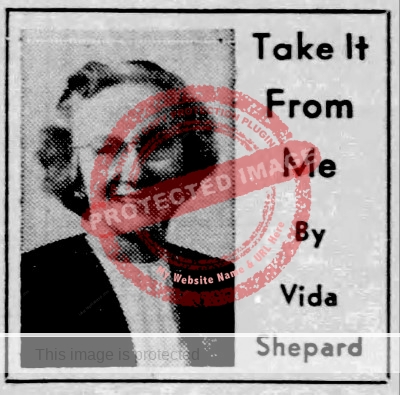 She first visited in late 1954, writing in an early column how she had rented a cottage in the Nido Hotel. The cottage had windows that overlooked a pleasant patio. Though the cottage had no kitchen, the hotel offered to provide three meals a day for 50 pesos ($4). Shepard remarked that the garden was enlivened by the antics of a parrot—"Sra Nido's best loved pet"—and two mockingbirds in cages. Shepard encouraged readers to consider visiting Chapala, and rent one of the "numerous homes rented by La Señora Nido, who has owned a large slice of the town since her husband's death four years ago." (In fact, Ramón Nido had died in 1945, fully a decade before Shepard's visit.)
In her column the following week, Shepard explained that Chapala had no TV reception, very few radios, and only limited phone service, with the hotel having one of the very few lines available. She also commented on the corncobs used as fuel for most water heaters ("except for the very new ones"), saying that it was a very inexpensive method since a "huge gunny sack of corncobs costs about 16 cents and lasts a few months."
When Shepard returned to Lake Chapala the following winter, this time renting accommodation in Ajijic, she first had a few days in Guadalajara, where she enjoyed "a very good lunch in the Ajijic restaurant in Hotel Guadalajara." This is the first and only reference I have ever seen to an "Ajijic restaurant" in the big city.
Her column the following week is about visiting Neill James at her home, Quinta Tzintzuntzan, in Ajijic. Shepard opens by quoting an inscription—"Little by little, drop by drop, one can empty the sea"—carved on one of the hand-hewn beams of the living room ceiling, which "could well be the inspiration which, little by little, has brought this remarkable woman health, a sound business and such contentment in Mexico that she feels no compulsion to leave her picturesque village, Ajijic."
Other beams were carved with designs from "Aztec codices", and one had an inscription in Spanish reading "The pen is the tongue of the soul." Shepard summarized James' early business enterprises (embroidery and weaving) before focusing on her silkworm operation, claiming that each year James "has a new dress for her traditional Christmas egg-nog party made from threads spun by her own silk worms." Shepard was charmed by the verdant orchard around James' home, especially its "15 varieties of bananas" and the massed "scarlet flowers" of "an espaliered poinsettia."
The following year (1956), when Shepard was staying at Lake Chapala, she described how she had taken visiting friends to explore Ajijic, where they met 'Stephen.' Stephen turned out to be the son of artist Alfred Rogoway, and persuaded them to walk with him to the gallery where his father's works were on show. They arrived to find that Stephen's mother was busy cooking supper there: the gallery-restaurant had only opened the previous day.
Shepard had a short story, "The Merry-Go-Round," published in Mexican Life in 1957. The merry-go-round apparently never works properly, and its owner is constantly tinkering with the machinery in a valiant and never-ending effort to get it to work as intended. Shepard had previously co-authored a cook book with Mary Dunbar Lemcke titled Four 'n Twenty Blackbirds: A Book on Game Cookery With Other Recipes Based Upon Products of Northern California (1949).
In 1958, Shepard apparently spent the summer rainy season in Chapala. In a column written several years later she recalled having watched a dramatic thunderstorm in Chapala from the front porch of a house near Villa Lourdes which "a group of UFO hunters had rented."
Like so many other visitors in the 1950s, Vida Shepard was clearly captivated by what she found. Her personal accounts of staying at Lake Chapala only serve to show just how much the area has changed since.
Sources
The Chico Enterprise-Record (Chico, California) 7 Jan 1955, 6; 15 Jan 1955, 4; 13 Sep 1955, 10; 28 Nov 1955, 10; 5 Dec 1955, 10; 3 March 1956, 5; 2 Jan 1958.
Vida Shepard. 1957. "The Merry-Go-Round." Mexican Life, October 1957.
Comments, corrections or additional material related to any of the writers and artists featured in our series of mini-bios are welcomed. Please use the comments feature at the bottom of individual posts, or email us.

Tony Burton's books include "Lake Chapala: A Postcard History" (2022), "Foreign Footprints in Ajijic" (2022), "If Walls Could Talk: Chapala's historic buildings and their former occupants" (2020), (available in translation as "Si Las Paredes Hablaran"), "Mexican Kaleidoscope" (2016), and "Lake Chapala Through the Ages" (2008).