I was surprised when I first read Barbara Compton's To The Isthmus (1964). The only review I had seen made it sound like a lightweight romantic novel in which the inclusion of scenes at Lake Chapala was largely incidental to the main plot. In fact, the chapter set at the lake plays a key role in both the geography behind this novel and in the new direction the plot takes thereafter. Perhaps not a "great novel" but certainly engagingly written and an interesting, if introspective, account of one woman's search for fulfillment.
The dust jacket describes it thus:
"To The Isthmus is a serious novel about the shaping of a modern woman's life: a brilliant delineation of the conflict between the force of circumstance-which dictates whom we shall meet and how-and the forec of our inner vision, which demands an absolute fulfillment of desires.

The protagonist is an Englishwoman, an intelligent, educated, emotionally alive young woman. She is seen in many roles and in many places-as a dutiful daughter who cares for her invalid mother in an English suburb before World War II; as an imaginative and loving mistress to her psychiatrist lover, Paul, in London; after the war as a good wife who cares enough for Paul to "love and hold, love and let go" as they live in separate apartments in Manhattan; and finally, as the companion of a new man on a trip to Mexico, to the isthmus of the title.

Life and death have pulled Peg Walter from city to city, from country to country, from person to person-through a world of complex and forceful people with whom she has tried to live in honesty and love and with some degree of happiness. This is the story of her failure and her success."
There is absolutely no doubt that the novel is largely autobiographical, and one in which the events and characters are only thinly disguised. The main characters (with real-life names in parentheses) include:
The protagonist, Margaret, or Peg (Barbara Keppel-Compton)
Her husband, psychoanalyst Dr. Paul Walter (Barbara's first husband, Dr Gerhard E. Witt)
Her friend Anne who lives in New York (Barbara's sister Ursula Niebuhr)
Anne's husband Oliver (Ursula's husband Reinhold Niebuhr)
Robert Radich, guest at Casa Heuer (Barbara's second husband, Richard Z. Moravec, to whom the book is dedicated)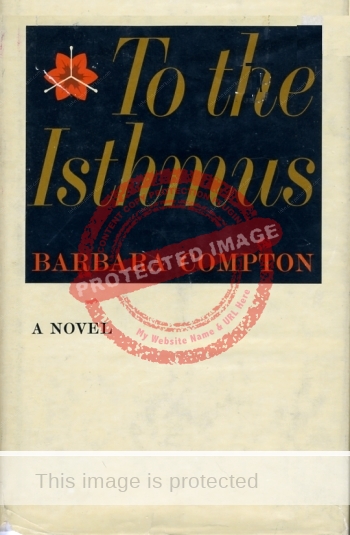 Other characters, too, are almost certainly based on real-life friends and acquaintances of the author.
The timing of events and many of the descriptions of character traits ring true as well. For example, we quickly learn that Dr. Paul Walter is German, and his work focuses on the relationship between medicine and psychology. During the war, Peg, on account of her language skills, works at a British intelligence agency in Cambridge. Future husband Paul writes poems and also sculpts and paints. He had wanted to become an artist but switched to medicine. This closely mirrors the lives of Barbara Keppel-Compton and her first husband Dr. Gerhard Witt.
The book is equally interesting from the perspective of reconnecting novels to their geographic settings. To The Isthmus has eight chapters. The fifth chapter, "To Mexico", is the fulcrum around which this novel pivots. It includes lots of details and descriptions relating to Ajijic in 1946.
Traveling to Ajijic in those days was an adventure in itself. Peg arrived from Mexico City by bus, via Guadalajara, after a thirty-hour trip:
"After Chapala the road lost its surface and two villages away petered out into an unpaved lane between thorn trees. The bus driver told me when to get out along this village street." [141]
Casa Heuer, where Peg stayed, was a simple establishment on the lake shore run by a German brother and sister, Enrico Schmidt (Pablo Heuer) and Gertruda Schmidt (Leisel Heuer).
In To The Isthmus, Enrico is described as "a tall emaciated figure" who wears a dressing gown most of the day, has huaraches on his feet and smokes cigars.
"By daylight his skin is like deeply tooled leather. He has a gaunt John the Baptist look about him, as if he lived on locusts. When he smiles, one notices several teeth are missing."
Gertruda Schmidt is portrayed as aloof and distant. She
"remains remote, and perhaps needs to, since out of that calm, wide-eyed contemplation of hers she sometimes writes articles on the country and people here which she sends to German-language newspapers in the States. She gave me some to read. The stress was on the rhythms of blood and soil, but without mentioning sex and violence, and so rendering only half the picture." [167]
Casa Heuer is located "at the end of a rutted lane", which "looks like the end of nowhere." "Only a low stone fence below separates this place from the slowly shelving shore and the sheet of light that is the lake." [146]
The main building is "like a long shack", with a sunken kitchen. Bedrooms, with shuttered windows that lack glass, are lit by hurricane lamps and candles; the bed "is tolerable, even if the pillow seems stuffed with cement." [142]
"By day my room is pleasant, with its writing table under the window on the yard. Through the opposite one, on the porch, the light from the lake comes in, reflected." [149-150]
The dining room has "a refectory table running the length of it with a few hard chairs at either side."
"And the yard behind is not just a chicken run with privy in one corner discreetly concealed by shrubs—as I thought in the dark last night. There's some sort of one-room abode built against the wall on the lane on one side of the gate, and on the other some little whitewashed cells. There is also an arbor of bougainvillaea in front of them, where one can sit at a bench and table; also a mango tree."
A rival hostelry, Posada Ajijic, gets a passing slight when Radich informs Peg that,
"it's just as well you didn't go to the Posada down the road, you wouldn't have survived a day. All the tourists go there. But the second day they all come here, where at least the water is safe, and the food."
The village has a small foreign colony, mainly Americans. Peg takes a walk through the village and finds the pool where women are doing their washing:
"Behind the two long streets there is a plaza, deserted and bare, with two rows of dwarf trees down the middle for a minimum of shade, and a large church behind tall palings at one end. There is no one about here or in the streets. The children must all be at school, the women all busy in their houses, the men presumably away working. There being nothing immediate to take hold of, I follow a stony path up and out toward the mountain slope which crowds the village to the flat strip along the lake. Perhaps a view of the village from above will take from it that blind impression which the empty streets and shuttered windows have given. As the path winds up, the few dry stunted thorn trees give way to a tall and slender growth clinging to the hillside. The path dips, and there is a rich shining grove of eucalyptus trees, and the sound of water and voices. It is a deep emerald pool set in a basin of rock, round which some half dozen women are doing their washing. It is my first encounter of the morning, but the women are far too immersed in their gossip to pay any attention to me as I pass, even to turn and stare at a stranger. So I climb on." [148-149]
This is precisely the scene painted a couple of years earlier by Ann Sonia Medalie.
It is the rainy season, and Peg's Spanish teacher, Lola, tells her about,
"the fearsome storms that sometimes sweep over the village at the height of the rainy season. This story was rather beyond my Spanish, so she acted it out until I gathered that what they most dread is a waterspout that can sweep everything, houses, people, cattle into the lake. Apparently this thing forms itself out over the lake from among the clouds, and slowly winds itself into the form of a snake overhead. When this happens, all the women go out from the village in a solid phalanx to pray that the snake remain in the cloud above and not point its head down to strike."
Violence is not confined to the skies. One morning, Peg arrives for a Spanish lesson and finds Lola distraught because "a man was killed last night" in the street outside her house. [165-166]
For his part, Radich, sharing his extensive knowledge of Ajijic, asks Peg if she has noticed one of the local celebrities (Zara Alexeyewa, the "Russian" dancer):
"Ever seen a woman riding through the village, draped in some sort of white Cossack outfit, and doing her shopping from horseback? Having been a dancer, she gave herself a Russian name. Well, when she couldn't make the grade any longer, she came out here-—lives in that house by the shore, hidden behind the eucalyptus grove at the end of this lane…" [170]
It is also worth recalling that only a few months later, that same year (1946), it was precisely at Casa Heuer where novelist Elaine Gottlieb had her precipitous romantic fling with Elliot Chase, the basis of Gottlieb's short story, "Passage Through Stars". It seems like there must have been both "writing in the air" and "love in the air" on Lake Chapala at Casa Heuer in 1946!
Other twentieth century novels set largely, or entirely, at Lake Chapala include:
Sombrero Books welcomes comments, corrections or additional material related to any of the writers and artists featured in our series of mini-bios. Please email us or use the comments feature at the bottom of individual posts.

Tony Burton's books include "Lake Chapala: A Postcard History" (2022), "Foreign Footprints in Ajijic" (2022), "If Walls Could Talk: Chapala's historic buildings and their former occupants" (2020), (available in translation as "Si Las Paredes Hablaran"), "Mexican Kaleidoscope" (2016), and "Lake Chapala Through the Ages" (2008).