English entrepreneur, balloon pilot and writer Arnold Eiloart (1907-1981) lived in Ajijic from either late 1948 or early 1949 until 1950, and again from 1951 to April 1952.
Arnold Beaupré Eiloart, usually known as "Bushy", was born on 23 August 1907, at The Camp, Ditton Hill, Long Ditton, Surrey. His parents had been living at Whiteway Colony, Gloucestershire, and, according to the family, Arnold's middle name (French for beautiful meadow) was a reference to his place of conception. Whiteway is a Socialist (Tolstoyan) experiment, started by a group of intellectuals in 1898 near Stroud in Gloucestershire, which survives to the present day. Arnold's parents were among the six men and two women who founded the colony, which advocated barter and espoused money and property rights. Arnold's parents left the group shortly after Arnold was born and returned to a more conventional life in Kingston, Surrey, where his father resumed his career as a university chemistry lecturer.
In 1934, Eiloart married Mary Elizabeth Stokes (born 1912, then aged 22) in Chelsea, London. She later became a doctor and dermatologist. Mary gave birth to twins – one named March and one named April: Timothy March Beaupre Eiloart and April Gail Aideen Eiloart – who had been expected to arrive in February, but came prematurely on 29 December 1936.
Eiloart gained his flying certificate on a Tiger Moth, Gypsy 130 at Brooklands Flying Club on 29 September 1939.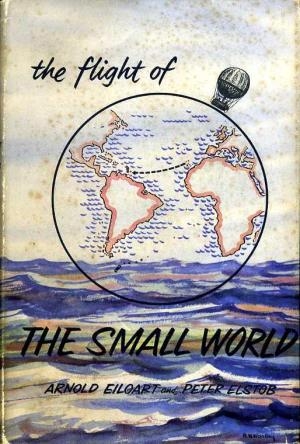 After the couple separated in about 1940, the children were sent out of London to live with their grandmother. When the war ended in 1945, they returned to live with their mother in London, where she was then working as a doctor.
Eiloart and his first wife divorced in about 1946. He was later briefly married to artist Juliet Boggis-Rolfe (1917-1982), better known by her maiden name of Juliet McLeod.
It is unclear how Eiloart first heard about Ajijic, and the attractions of living there, but it is possible that this was from the London literary and theater circles in which he and business partner, author Peter Elstob, moved. In his daughter's words, "Bushy dreamed of being a writer but did not have Peter's flare."
In 1946, Eiloart and Elstob teamed up with actor Alec Clunes to raise £20,000 for the lease on the Arts Theatre in London. After buying the lease there was only enough money for one production: Waiting for Lefty by Clifford Odets. Fortunately, this was a financial success, and enabled them to finance several other plays, including the first production of The Lady's Not For Burning by Christopher Fry.
The London theater and writing set at this time would have included friends of Nigel Millett and  Peter Lilley who had teamed up as "Dane Chandos" to write Village in the Sun (first published in the U.K. in 1945), their month-by-month account of building a home in San Antonio Tlayacapan, just to the east of Ajijic.
Millett lived in Ajijic from 1937 to his death in 1946. Prior to moving to Mexico, he had written (as "Richard Oke") a biography, and several plays and novels, including Frolic wind (1929), a satirical gay comedy novel that was turned into a West End stage production in 1935. A revived run of Frolic wind began on 10 November 1948 at Boltons Theatre, Kensington.
Eiloart flew from London to New York in November 1948 and reached Ajijic in late 1948 or early 1949. He lived there for at least eighteen months until September 1950, and returned to Ajijic to live there again from 1951 to April 1952.
In Ajijic, Eiloart partnered Elstob to form "Peter Arnold", a joint venture that promoted Ajijic as a vacation and retirement destination. Participants were housed in the Posada Ajijic and other rental properties as needed. (Their joint real estate company in the U.K., "Peter Arnold Properties", was active into the 1970s.)
The available evidence suggests that Eiloart arrived first in Ajijic, in either late 1948 or early 1949, with Elstob joining him there late in 1949. Eiloart's daughter, Gail Eiloart, remembers visiting her father in Ajijic from August 1949 to September 1950. She sailed from Southampton as an unaccompanied 12-year-old on board the "Nieuw Amsterdam" to New York, where she was met by a family friend and put on a train south to be met by her father in Mexico City. She and her father left Mexico to return home the following year, taking a flight on 12 September 1950 from Monterrey to Brownsville, Texas.
Even though she was barely a teenager at the time, Gail Eiloart can still recall many of the characters she met during her twelve months in Ajijic, including violinist John Langley, artist Nick Muzenic, artist and explorer Toby Schneebaum, Herbert Johnson and Georgette Johnson and author Neill James. Helping her father at the Posada Ajijic was Dorothy ("Dolly") Whelan, the partner of the artist Ernest Alexander.
Eiloart left Ajijic for the U.K. in April 1952, traveling with Peter Elstob, Barbara Zacheisz and their infant son, on board the Queen Elizabeth.
The two men's next joint venture came in 1958, when Eiloart attempted a trans-Atlantic balloon flight from Tenerife to the West Indies.

The balloon had a four person crew – Eiloart, his son Tim, artist and sailor Colin Mudie and his wife Rosemary – with Peter Elstob keeping his feet on the ground and managing publicity. Eiloart had taken balloon training in the Netherlands, and may well have been the only British person holding a balloonist's license at that time. The attempt ultimately failed, but set a record for a gas-powered balloon flight that stood for decades. The story of this extraordinary adventure is told in their joint book, The Flight of the Small World (1959).
Arnold Eiloart died 6 Feb 1981, Huntingdon, Cambridgeshire.
[After his part in the balloon adventure, Eiloart's son Timothy Eiloart (1936-2009), a chemical engineer, founded a series of companies, including Cambridge Consultants Ltd., the U.K.'s first independent contract research and development company. He later became actively involved in Green politics.]
Acknowledgments
Sincere thanks to Gail Eiloart for her assistance in sorting out the chronology and details of her father's life.
Sources:
Sombrero Books welcomes comments, corrections or additional material related to any of the writers and artists featured in our series of mini-bios. Please use the comments feature at the bottom of individual posts, or email us.

Tony Burton's books include "Lake Chapala: A Postcard History" (2022), "Foreign Footprints in Ajijic" (2022), "If Walls Could Talk: Chapala's historic buildings and their former occupants" (2020), (available in translation as "Si Las Paredes Hablaran"), "Mexican Kaleidoscope" (2016), and "Lake Chapala Through the Ages" (2008).