Educator, translator and all-round good guy John Upton had been living in Ajijic for about a year when he submitted an article about the village in 1950 to the  San Francisco Chronicle. The article focuses especially on the impact of the summer Ajijic Art Workshop, marketed in US colleges and universities.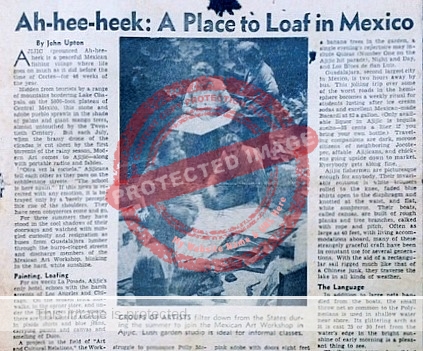 Upton opens by describing Ajijic as "a peaceful Mexican fishing village where life goes on much as it did before the time of Cortes-for 46 weeks of the year." The bulk of his article is about the remaining six weeks, when — during the rainy season in this "stone and adobe pueblo… almost untouched by the twentieth century" — "Modern Art comes to Ajijic- along with portable radios and falsies."
Buses from Guadalajara lumber through the burro-clogged streets and discharge members of the Mexican Art Workshop, blinking in the hard, white sunshine." These art students stay in "La Posada, Ajijic's only hotel," which "echoes with the harsh accents of Los Angeles and Chicago.

On the broken brick sidewalks, in the corner store, and under the flame trees in the square, there are little knots of Americans in plaid shirts and blue jeans, carrying paints and canvas and smelling of Dior."
The workshop was organized by Irma Jonas; its art teachers, headed by Ernesto Linares, included Carlos Mérida, Nicolas Muzenic and Tobias [Toby] Schneebaum. The workshop's social secretary was Zoe Kernick. The students, mostly women, paid "$275 for a summer of art, inspiration and small adventures."
Classes are held in one of the town's largest houses, a sprawling pink adobe with doors eight feet high that open with a key about as large and portable as a pipe wrench. Easels are set up in the luxuriant garden of banana and mango trees until 4.15 in the afternoon, when the daily rainstorm promptly begins. Its downpour lasts little more than half an hour, but after brushes are cleaned and canvases stacked there's barely time for a rum and water before dinner.

Extra-curricular entertainment is continued largely in gatherings at the inn or in Linares' cool, high-ceilinged sala, since townspeople frown on women who smoke or drink in public. The cantina has no "table for ladies," and discourages their attendance-mostly because the showpiece of the establishment is a large, white urinal installed just inside the door.

Music for these evenings is provided by mariachis, local minstrels whose ragged esprit de corps is nicely balanced by their willingness to play anything…. A single evening's repertoire may include "Quizas" (Number One on the Ajijic hit parade), "Night and Day," and "Los Blues de San Luis.""
The parties were suitably rowdy, fueled by local tequila, which was "35 cents a liter if you bring your own bottle."
Acknowledgment
Source
John Upton. 1950. "Ah-hee-heek: A Place to Loaf in Mexico." San Francisco Chronicle, 7 May 1950.
Comments, corrections or additional material related to any of the writers and artists featured in our series of mini-bios are welcomed. Please use the comments feature at the bottom of individual posts, or email us.

Tony Burton's books include "Lake Chapala: A Postcard History" (2022), "Foreign Footprints in Ajijic" (2022), "If Walls Could Talk: Chapala's historic buildings and their former occupants" (2020), (available in translation as "Si Las Paredes Hablaran"), "Mexican Kaleidoscope" (2016), and "Lake Chapala Through the Ages" (2008).