Artist and environmentalist Ra(w) Rysiek (formerly known as Rick, then Richard) Ledwon lived in Jocotepec several times for short periods from the early 1980s on.
Born in Saskatchewan, Canada, to a musical couple from Poland, Ledwon studied Fine Arts at University of Alberta, but apparently became disillusioned by professors who told him he'd never make it in his chosen field. He traveled to Europe. On his return to Canada, he studied graphic design at Grant MacEwan Art College (Edmonton, Alberta) and at Fredericton College.
Ledwon then worked for Air Canada (Latin America and Caribbean) and as a freelance graphic artist. He visited Jocotepec to meet artist-photographer John Frost (on the recommendation of a mutual friend), and then worked with both John Frost, and also with Georg Rauch, another Jocotepec-based artist, for almost two years. During this time, he developed silk screen and other techniques. After returning to Canada, he worked as a picture framer at an art gallery, but soon moved back to Jocotepec, where he did silkscreens and paintings, primarily of flowers and architecture.
In 1985, his silkscreens (example above) were regularly exhibited in the Posada Ajijic and sold well.
One of Ledwon's paintings was included in an exhibition in Mexico City in 1988 entitled "Help Save Lake Chapala", alongside works by Daphne Aluta, Nancy Bollembach, Luisa Julian, Conrado Contreras, Georg Rauch, Eleanor Smart, Enrique Velázquez and Laura Goeglin.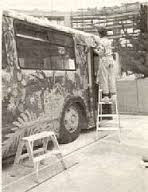 When he returned permanently to Canada, and living in Ottawa, Ledwon decorated the 'Envirobus' (see image), which was used to promote local environmental groups and environmentally oriented businesses, such as organic farmers and recycling companies. The bus itself was a moving mural, painted to represent Ledwon's impression of forests from all over the Americas.
In more recent years, Ledwon has resided in the Slocan Valley in B.C., Canada, built unique strawbale houses, tended organic gardens, and taught about the raw food diet, while practicing Qigong.
Source:
Anon. 1987. Portrait of the Artist, in El Ojo del Lago, January 1987, vol III, No 4.
Sombrero Books welcomes comments, corrections or additional material related to any of the writers and artists featured in our series of mini-bios. Please use the comments feature at the bottom of individual posts, or email us.