Miles Swarthout was the son of award-winning novelist Glendon Swarthout (1918-1992) and his wife Kathryn Vaughn (1919-2015). Miles was born on 1 May 1946 and died on 2 March 2016.
As a five-year-old child, Miles spent six months in Ajijic in 1951 with his parents, while his father worked on a novel, Doyle Dorado, later consigned, in Miles' words, to "the stove, making hot water for Dad's shower." His father's short story "Ixion" was the "semi-autobiographical story of a young advertising man attempting to write his first novel in the little artist's colony of Ajijic." It was first published in New World Writing #13 (Mentor, 1958).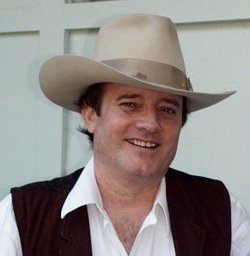 Many years later, after Miles became a successful screenwriter, he turned his father's short story into a screenplay called Convictions of the Heart. Miles Swarthout adapted a number of his father's novels into films, among them A Christmas to Remember for CBS in 1978. Miles wrote a regular Hollywood Western film column for the Western Writers of America's bi-monthly magazine, The Roundup, and contributed several articles to Persimmon Hill, the quarterly magazine of the National Cowboy Hall of Fame, including "The Westerns of Glendon Swarthout" for  the special summer issue of 1996.
Miles also edited a collection of his late father's short stories,including Ixion, as Easterns and Westerns (Michigan State University Press, 2001).
The screenplay, Convictions of the Heart, "tells the emotional tale of a romance gone bad in Mexico, between Johnson, a thirty-year-old advertising copywriter from Cleveland attempting to write his first novel, and Irene Temple, a middle-aged socialite fleeing a boring marriage in NYC. Mrs. Temple has two daughters in tow, Sheila, 8, and Sara, 6, who have led an untamed life for over a year on the shores of Lake Chapala, Mexico's largest lake, an hour from their second largest city, Guadalajara."
In the short story, Irene Temple is aged 35, Johnson 29 and the two girls  7 and 6, respectively. There are, inevitably, some more significant, differences between the original short story and the screenplay. For example, in the screenplay, the character of Irene's former lover Paco Marquez is fleshed out, and he plays a much larger role than in the original story. The screenplay includes a new scene in which Johnson comes to "fisticuffs one drunken night with her former local lover, Paco Marquez" and subsequently "spends the night in Ajijic's jail".
"Johnson slowly realizes that his writing career is drying up faster than Lake Chapala, and this tale's poignant climax is a warning to impressionable young artists about getting sexually involved with their neighbors, to the detriment of their art and their life. Johnson learns a hard, tragic lesson to the final tune of Kenny Loggins' hit song, "Convictions of the Heart." And the viewer is reminded of French philosopher Blaise Pascal's famous maxim, that "the heart has its reasons, that reason knows nothing of…." (Screenplay description)
To the best of my knowledge, this screenplay has never been produced, though such a movie would surely strike a chord among the many Americans who have experienced romantic challenges as they tried to re-invent their lives in Mexico. It could be time for a kickstarter campaign…
Note: Screenplay was at http://www.glendonswarthout.com/screenplays/convictionsheart.htm
Other twentieth century novels set largely, or entirely, at Lake Chapala include:
Sombrero Books welcomes comments, corrections or additional material related to any of the writers and artists featured in our series of mini-bios. Please email us or use the comments feature at the bottom of individual posts.

Tony Burton's books include "Lake Chapala: A Postcard History" (2022), "Foreign Footprints in Ajijic" (2022), "If Walls Could Talk: Chapala's historic buildings and their former occupants" (2020), (available in translation as "Si Las Paredes Hablaran"), "Mexican Kaleidoscope" (2016), and "Lake Chapala Through the Ages" (2008).