Mexican-born Virginia Downs (1914-2005) was the third wife of William ("Bill") Colfax Miller. After their marriage in November 1969, the Millers lived in Cuernavaca, where they co-owned an art gallery, before moving first to the U.S. for a year and then, in about 1982, to Lake Chapala, where Virginia Miller was a prolific writer of articles about Mexico for local English-language publications.
Virginia Downs was born into a wealthy American family in Guadalajara on 11 March 1914 and died in that same city on 16 November 2005. Her grandfather, Alfred Ryder Downs, had been a successful miner in Alaska before moving to Mexico, where he built up a business empire as owner of the American Bank of Guadalajara, a Ford Agency and (allegedly) the first gas station in Guadalajara. He bought land on the then northern outskirts of the city that he subsequently developed at the start of the 20th century as Colonia Seattle. Modeled on an American garden city, this area initially had 57 homes and its own electric and water plants.
Virginia was only nine days old when her family fled Guadalajara for the U.S., fearing for their lives as the Mexican Revolution engulfed the city and most Americans were forced to flee. Grandfather Downs returned a few years later and resumed his business interests. Virginia's family also returned, and she attended school in Guadalajara before completing her high school education at Grey Castle (which later became San Diego High School) in California, after which she majored in foreign languages at the University of California Los Angeles.
After graduating, Downs worked in the U.S. Civil Service. She worked 5 years in Hawaii, two years in Japan and a year in Frankfurt before spending 15 years in Paris, where she worked as a researcher and writer for the U.S. Joint Chiefs of Staff European Command. When NATO personnel were ordered out of France in 1967 by President Charles de Gaulle, she returned to the U.S.
Failing to find suitable work in Los Angeles, she moved back to Mexico, living first in Oaxaca, then San Miguel de Allende (where she took art classes), and then to the Cortés house in Cuernavaca. It was in Cuernavaca that she met and married Bill Miller.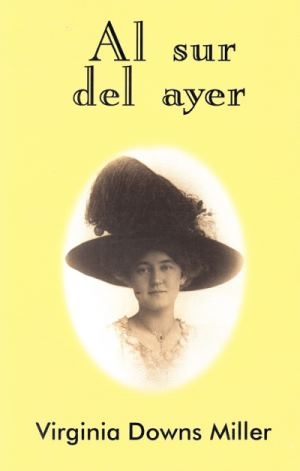 During their time in Cuernavaca, Virginia was a columnist for the local daily El Diario de Morelos and the couple opened the Akari Art Gallery, the city's first major art gallery. The couple were friends of many famous Mexican artists, including Alfaro David Siqueiros who gave them a personally-inscribed heliographic copy of a drawing entitled "La Niña Madre". This drawing was used by Excelsior, the national daily, during its campaign to get Mother's Day officially celebrated in Mexico.
The Atari Gallery was one of the venues for a group show by Clique Ajijic in February 1976. The Clique Ajijic was comprised of eight Ajijic artists: Tom Faloon, Hubert Harmon, Todd ("Rocky") Karns, Gail Michaels, John Peterson, Synnove (Shaffer) Pettersen, Adolfo Riestra and Sidney Schwartzman.
Among the other "Ajijicans" attending the opening in Cuernavaca were Peggy Koll, Margo Thomas, and Bruce and Patricia Wightman.
In Ajijic, in addition to her regular contributions to El Ojo del Lago (The Eye of the Lake) and other local publications, Virginia Miller self-published South of Yesterday (2001), a family history, subsequently translated into Spanish as Al Sur del Ayer (2004). She described the book as "the story of my mother's life as a bride coming to a strange land. The book flows through the charmed life of an American living in Guadalajara in the early nineteen hundreds into the violence of the Revolution, escape from and return to a much-beloved Mexico."
Sources
Comments, corrections or additional material related to any of the writers and artists featured in our series of mini-bios are welcomed. Please use the comments feature at the bottom of individual posts, or email us.

Tony Burton's books include "Lake Chapala: A Postcard History" (2022), "Foreign Footprints in Ajijic" (2022), "If Walls Could Talk: Chapala's historic buildings and their former occupants" (2020), (available in translation as "Si Las Paredes Hablaran"), "Mexican Kaleidoscope" (2016), and "Lake Chapala Through the Ages" (2008).