The Clique Ajijic was a group of eight artists that existed as a loosely-organized collective for three or four years in the mid-1970s.
The eight artists in the Clique Ajijic were (from left to right): Sidney Schwartzman, Adolfo Riestra, Gail Michaels, Hubert Harmon, Synnove (Shaffer) Pettersen, Tom Faloon, Todd ("Rocky") Karns, and John Peterson (the only member of Clique Ajijic who had been a member of the earlier Grupo 68).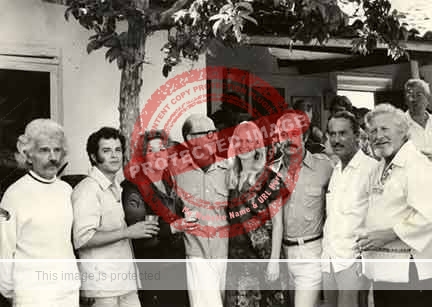 See also: Photo of Clique Ajijic and friends at Galería OM, 24 October 1975.
The shows of Clique Ajijic included:
Chapala: Villa Monte Carlo, opened 16 March 1975
Ajijic: Galería del Lago (Colón #6, Ajijic), 15 August 1975
Ajijic: Hotel Camino Real, 13-16 September 1975
Guadalajara: Galería OM, 24 October 1975
Manzanillo: Club Santiago, 29 October 1975
Cuernavaca: Akari Gallery,  7 February 1976
Guadalajara: American Society of Jalisco, 21 February 1976
Synnove Pettersen recalls that "We never painted together as a group, just had shows." Some of these shows were organized by Katie Goodridge Ingram who ran the Galería del Lago art gallery, located at that time on the main highway in Ajijic. Tom Faloon recalled that Kate Karns, the wife of Todd Karns, sometimes posed for the artists in Clique Ajijic.
Credits:
Synnove Pettersen (e-mail exchange); Tom Faloon (interviewed in Ajijic in February 2014); Katie Goodridge Ingram (e-mails and telephone interviews, 2015); gallery invitations.
Sombrero Books welcomes comments, corrections or additional material related to any of the writers and artists featured in our series of mini-bios. Please use the comments feature at the bottom of individual posts, or email us.