Leonora Baccante had published two novels prior to living in Ajijic in the 1950s, at the same time as Eileen and Robert (Bob) Bassing.
Baccante's novels are not set in Ajijic, but Baccante herself was the basis for the character of novelist Victoria Beacon, the central character in Eileen Bassing's novel, Where's Annie?
Little is known about Baccante, who is reported to have hated publicity, children and pets.
According to a short profile of her by Selma Robinson in the New York Evening Post (7 March 1931),  "Mrs Baccante," who was born in London, England, "has lived for the past few years in New York, part of the time in Woodstock, part of the time with her sister in Manhattan." Robinson added that even Baccante's publishers "know nothing about her. She is a dark-haired, dark-eyed girl who looks Latin, although her Italian name is hers only by marriage." Baccante was born in about 1905.
A 1928 Kingston, New York, newspaper account describes Baccante as a "former New York World staff writer" (The New York World ceased publication three years later.)
Baccante's two novels are
Johnny Bogan: A Realistic Novel Of Violent Young Love (New York: Vanguard, 1931) and
Women Must Love (New York: Vanguard, 1932).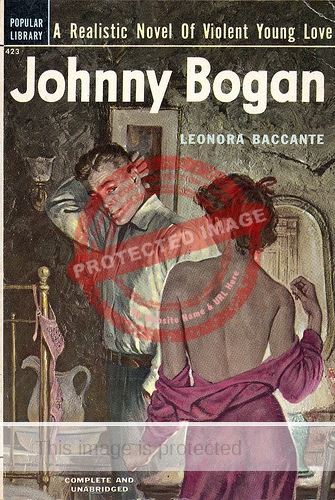 Johnny Bogan is set in a small town and is a character study and love story rolled into one. The striking cover art by Puerto Rican artist Raphael Desoto shows a young brunette undressing in front of a handsome guy in a bedroom. The novel is about a ladies' man Johnny Bogan, the son of a murderer, who falls in love with Cathy Willis, a girl who initiated their relationship at school. According to Baccante's friends, the character of Cathy is autobiographical.
A short piece by Baccante, "Can't we be Friends?", with illustrations by Ty Mahon, was published in the October 1931 issue of the College Humor magazine. Baccante also wrote an unpublished play, Making the man; a play in 3 acts, recorded as written in 1929 when she was living in New York City.
Baccante renewed the copyrights of her two novels in 1958 and 1960 respectively.
Note: This is an updated version of a post first published in 2014.
Sombrero Books welcomes comments, corrections or additional material related to any of the writers and artists featured in our series of mini-bios. Please use the comments feature at the bottom of individual posts, or email us.


Tony Burton's books include "Lake Chapala: A Postcard History" (2022), "Foreign Footprints in Ajijic" (2022), "If Walls Could Talk: Chapala's historic buildings and their former occupants" (2020), (available in translation as "Si Las Paredes Hablaran"), "Mexican Kaleidoscope" (2016), and "Lake Chapala Through the Ages" (2008).