The art group known as Grupo 68 was founded in 1967 and initially comprised Peter Huf, his wife Eunice (Hunt) Huf, Jack Rutherford, John Kenneth Peterson and Shaw (the artist Don Shaw). Jack Rutherford dropped out after about a year, but the others remained as a group until 1971.

Grupo 68 exhibited regularly (most Sunday afternoons), from early in 1968, at the Hotel Camino Real in Guadalajara, at the invitation of the hotel's public relations manager Ray Alvorado (a singer) and also held many group shows in Ajijic, both at Laura Bateman's Rincón del Arte gallery, as well as (later) in "La Galería", the collective gallery they founded at Zaragoza #1, Ajijic. In addition, the group also showed in Guadalajara with José María de Servín, El Tekare, and at Ken Edwards store in Tlaquepaque.
Grupo 68 came to an end when the individual artists went their separate ways. Jack Rutherford returned to the USA in 1971, and later settled in Spain. Peter Paul Huf and his wife Eunice Hunt returned to Europe in 1972. The only member of Grupo 68 who remained in Ajijic was John K. Peterson, who subsequently joined with seven other artists – Sidney Schwartzman, Adolfo Riestra, Gail Michaels, Hubert Harmon, Synnove (Shaffer) Pettersen, Tom Faloon and Todd ("Rocky") Karns – to form a new group known as The Clique Ajijic.
Partial list of Grupo 68 exhibitions:
January 1968 – 20 January 1968 – All four artists included in a group show at Ken Edwards (El Palomar), Tlaquepaque – 9 artists in total. Opened Saturday 20 January 1968. Artists: Eunice Hunt, Peter Paul Huf, Shaw, John Kenneth Peterson, Coffeen Suhl, Hector Navarro, Gustavo Aranguren, Rodolfo Lozano, Gail Michaels ["Michel" on invite].
1968 – 1971  Camino Real Hotel, Guadalajara. Grupo 68 members held weekly shows most Sundays by the hotel pool. Participation varied, but usually included works by all four artists.
July 1968 – Tekare penthouse, 16 de Septiembre #157, 10th floor, Guadalajara. All four members of Grupo 68 (Eunice Hunt, Peter Paul Huf, Shaw, John Kenneth Peterson). Opened on Tuesday 23 July 1968, and was very favorably reviewed by Allyn Hunt in "Art Probe" (Guadalajara Reporter, 27 July 1968) :
"four highly independent artists (with four very different styles) who have the discipline, while regularly showing together, not to adopt a group means in approaching pictorial problems."

"Most immediately charming are Eunice Hunt's acrylic and pen and ink pieces, "Fleurs du Mal", "Ophelia" and "Aurora"."

"Peter Huf exhibits two serigraphs of exceptional strength… these are among the show's best works."

"Donald Shaw is probably this group's most exploratory imagination, the one that when working at peak thrust, dominates technique and pictorial concepts most thoroughly."

"John Peterson displays several mosaic-like watercolors, the best of which are his ferris wheel pictures and "Butterfly"."
September 1968 – "re-opening" of the Rincon del Arte gallery in Ajijic – Calle Hidalgo 41, 21 Sep 1968 – 10 October. Group show, including all four Grupo 68 members, opened Saturday 21 September – Eight painters, one sculptor (Joe Wedgewood, recently arrived from Santa Monica, California). Artists: Tom Brudenell, Alejandro Colunga, Coffeen Suhl, Eunice Hunt, Peter Paul Huf, John K Peterson, Jack Rutherford, Donald Shaw, Joe Wedgewood. [by then Shaw had been identified as Donald Shaw]
October 1968 – Works of  Jose María de Servín and Grupo 68, at Galería del Bosque, Calle de la Noche 2677, Guadalajara; opened 24 October 1968. All four members of Grupo 68 (Shaw, John Kenneth Peterson, Eunice Hunt, Peter Paul Huf) in a joint show, as part of the Cultural Program of the International Arts Festival for the XIX Olympics.
December 1968 – "Art is Life; Life is Art" at La Galería, Ajijic. All four Grupo 68 members joined with other artists in a group show "The Group" ("El Grupo") at the re-opening of La Galeria in Ajijic; show ran from Friday 13 December 1968 to 10 January 1969. Artists: Tom Brudenell, Alejandro Colunga, John Frost, Paul Hachten, Eunice Hunt, Peter Paul Huf, John Kenneth Peterson, Jack Rutherford, José Ma. De Servin, Shaw, Cynthia Siddons, Joe Wedgewood. A review in Guadalajara Reporter said that,
"The very entryway bristles with such attention-grabbing pictures as Paul Hachten's etching of the map of the United States, John Frost's delicate photoprint nude, Eunice Hunt's haunting "Labyrinth" – in which webs of gentle orange have been deftly squeezed against a gray and black background. One of the best works in the show is hung here: Donald Shaw's tour de force serigraph, "Spore Box", presenting us with brilliantly-conceived chromatic ideas and imaginative forms which do not relay on optical illusionism, excessive optical vibration or three-dimensionality. This is undoubtedly the best serigraph Shaw – who has executed several series of rewarding prints – has produced."
February 1969 – Three of the Grupo 68 exhibited at the Tekare penthouse restaurant-gallery, 16 de Septiembre #157, 10th floor, Guadalajara; opened 4 February. Artists: Eunice Hunt, Peter Paul Huf,  Shaw.
April 1969 – All five members of the original Grupo 68 showed works in a collective exhibit that opened 18 April 1969 at La Galería, Ajijic. The announcement in Guadalajara daily Informador (20 April) lists the artists as John Kenneth Peterson, Charles Henry Blodgett (guest artist) and "El Grupo" (John Brandi, Tom Brudenell, Eunice Hunt, Peter Paul Huf, Jack Rutherford, Shaw, Cynthia Siddons and Robert Snodgrass).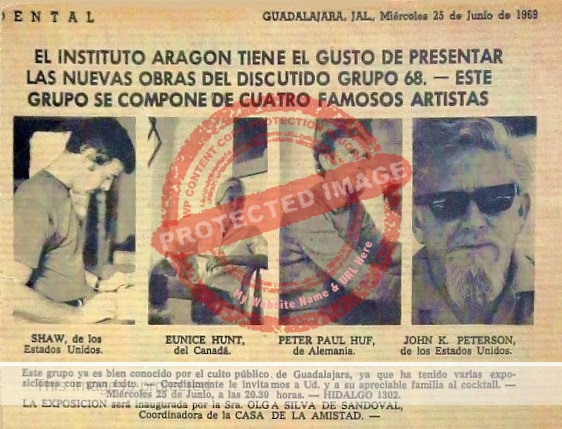 June 1969 – Grupo 68 show at Instituto Aragon, Hidalgo 1302, Guadalajara, opened 25 June. All four Grupo 68 artists (Shaw, Eunice Hunt, Peter Paul Huf, John Kenneth Peterson) were involved (see image).
September 1969 – (3 September for a month) – Three Grupo 68 artists exhibited together at Galeria 1728 (owned by Jose María de Servin), Hidalgo 1728, Guadalajara. The show was entitled 7-7-7 (7 works each by Eunice Hunt, Peter Paul Huf and Shaw, the show's title derived from the Olympics scoring system); opened on Wednesday 3 September.
Sources:
Peter Paul Huf and Eunice Hunt (interviewed in 2014); photos and gallery invitations in collections of Peter Paul Huf, Eunice Hunt, Tom Brudenell and others.
Sombrero Books welcomes comments, corrections or additional material related to any of the writers and artists featured in our series of mini-bios. Please use the comments feature at the bottom of individual posts, or email us.

Tony Burton's books include "Lake Chapala: A Postcard History" (2022), "Foreign Footprints in Ajijic" (2022), "If Walls Could Talk: Chapala's historic buildings and their former occupants" (2020), (available in translation as "Si Las Paredes Hablaran"), "Mexican Kaleidoscope" (2016), and "Lake Chapala Through the Ages" (2008).