Calvin Tomkins, who later wrote extensively for Newsweek and the New Yorker, completed his first novel Intermission while staying at Lake Chapala. The autobiographical novel was first published by Viking Press, New York, in 1951. The book is not set at the lake; its locales are Santa Fe, New York and New Jersey. It explores the tricky and sometimes difficult relationships between two brothers, one of whom is the narrator, and one of their oldest friends and his wife.
Tomkins was born in Orange, New Jersey, on 17 December 1925. After graduating from Berkshire School, he served two years in the US Navy, and then completed a degree program at Princeton University in 1948. Still in his early twenties, and newly married with an urge to write, he got lucky: Tomkins' father, a New Jersey businessman, offered to finance an entire year for him to focus on trying to become a writer. Calvin and his wife rented a place in Santa Fe, and Calvin began drafting the story which turned into Intermission.
After some months in Santa Fe, the young couple decided to visit Mexico where they:
"ended up in a place outside of Guadalajara, at a pretty little inn by Lake Chapala. . . We were there three or four months, and I wrote there, too. It was a kind of Hemingway-esque experience for me. I remember finishing the manuscript there and sending it to my agent. I heard back a few weeks later that it had been accepted by Viking Press!"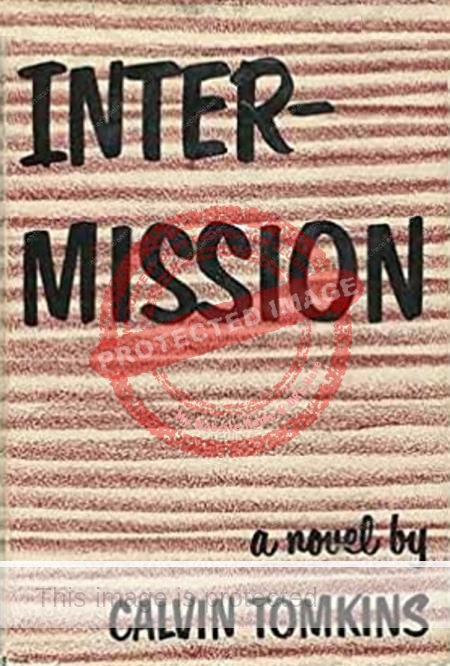 On their return to the US, Tomkins struggled to write a second novel, but did get several short stories published. To make ends meet, he became a journalist, working first for Radio Free Europe (1953-1957) and then Newsweek. He had a freelance contribution to the New Yorker accepted in 1958, and joined the magazine two years later as a staff writer. In addition to short stories and humor pieces, he branched out into nonfiction. Over two decades, he focused on chronicling the rapidly evolving New York City art scene. He was the New Yorker's official art critic in the early 1980s, and responsible for hundreds of art reviews and profiles for the magazine's "Art World" column.
Besides Intermission, Tomkins' major published works include: The bride & the bachelors: the heretical courtship in modern art (1965); The Lewis and Clark Trail (1965); The world of Marcel Duchamp (1966); Eric Hoffer: An American Odyssey (1969); Merchants and Masterpieces: The Story of the Metropolitan Museum of Art (1970); Living Well Is the Best Revenge: The Life of Gerald and Sara Murphy (1971); The Scene: Reports on Post-Modern Art (1976); Off the Wall : A Portrait of Robert Rauschenberg (1980); Marcel Duchamp: The Afternoon Interviews (2013); and The Lives of Artists (2019).
In retirement, Tomkins donated his papers to the Museum of Modern Art and his art-book archive to the Redwood Library and Athenaeum in Newport, Rhode Island.
Acknowledgment
My sincere thanks to artist Peter Holden for bringing Calvin Tomkins' important link to Lake Chapala to my attention.
Lake Chapala Artists & Authors is reader-supported. Purchases made via links on our site may, at no cost to you, earn us an affiliate commission.
Learn more.
To learn more about the literary history of Lake Chapala, see the relevant chapters of Foreign Footprints in Ajijic: Decades of Change in a Mexican Village.
The Lake Chapala-Santa Fe literary-art nexus has had many distinguished members over the years, including D. H. Lawrence,  Witter Bynner, "Spud" Johnson, Betty Binkley, Josefa (the "mother of Mexican fashion design"), Jorge Fick, Clinton King and his (first) wife Lady Twysden, Clark Hulings, John Liggett Meigs, Alfred Rogoway, Don Shaw, photographer Ernest Walter Knee, poet and painter John Brandi, musicologist Charles Bogert, Bob Hunt, Arthur Davison Ficke and Gladys Brown Ficke. Instrumental in fomenting the links in the 1940s was Santa Fe journalist Brian Ború Dunne.
Sources
Comments, corrections and additional material welcome, whether via comments feature or email.

Tony Burton's books include "Lake Chapala: A Postcard History" (2022), "Foreign Footprints in Ajijic" (2022), "If Walls Could Talk: Chapala's historic buildings and their former occupants" (2020), (available in translation as "Si Las Paredes Hablaran"), "Mexican Kaleidoscope" (2016), and "Lake Chapala Through the Ages" (2008).