Even my best efforts sometimes fail to turn up anything of note about certain artists that I know lived and worked at Lake Chapala.
Joe (Joseph) Vines is a case in point. Even though several artists I have interviewed in the past decade have mentioned him—and recall his work—I have managed to find out virtually nothing about this elusive artist who lived in the late 1960s in Jocotepec. His address in a 1968 directory was listed as Morelos Ote 186, Jocotepec.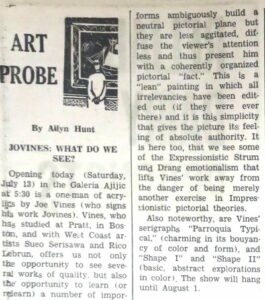 Joe Vines, mistakenly spelled as either Jo Vines or Joe Vine in some contemporary news reports, was a male artist who signed his work "Jovines." He held a solo show in March 1968 at the "Galería Ajijic Bellas Artes," administered by Hudson and Mary Rose, that was located at Marcos Castellanos #15 (at the intersection with Constitución) in Ajijic. Reviewing the show, Allyn Hunt described his work as "sparkling, colorful silkscreen prints."
Vines' work was also included in a "collective fine crafts show" at the same gallery in May 1968, alongside examples of work by Mary Rose; Hudson Rose; Peter Huf and his wife, Eunice (Hunt) Huf; Ben Crabbe; Gail Michel, Joe Rowe and Beverly Hunt. On that occasion, Vines, who was described as "an excellent serigrapher" contributed "several unpretentious sculptures."
According to Peter Huf, Vines exhibited only rarely. Muralist Tom Brudenell, who lived in Jocotepec at the time, recalled that Vines was an older artist and "a long-time painter in oils", who used his sound technique to produce commercial 'pot boilers,' shown by Marilyn Hodge in the Galería 8 de Julio in Guadalajara.
Reviewing another Vines exhibit in July 1968, where the artist showed "arabesque style" paintings and silkscreens, including "Wailing Wall", "Birds in a Bush" and "Jocotepec Dancers," Allyn Hunt wrote that Vines had studied at Pratt, in Boston, and with west coast artists Sueo Serisawa and Rico Lebrun.
If you can add to this all-too-brief account of Joe Vines, supply any biographical details, or have examples of his work, please get in touch!
Note: Kudos to Kim (see comments) for alerting me to Design Plus Gallery in San Francisco selling several works by Joe Vines.
Sources
Guadalajara Reporter: 27 April 1968; 25 May 1968; 13 July 1968
Comments, corrections or additional material related to any of the writers and artists featured in our series of mini-bios are welcome. Please use the comments feature at the bottom of individual posts, or email us.