A number of artists and authors associated with Lake Chapala have clear links to Christmas. Admittedly, some links are more tenuous than others. Here, in no particular order, are a few of those that come to mind:
German-born photographer Hugo Brehme, who  photographed Lake Chapala, and many of whose superb black-and-white postcard images are hauntingly beautiful, is credited with having introduced the first photographic Christmas cards into Mexico.
Another photographer, Toni Beatty, found creative freedom while living in Ajijic in 1976. The image above (reproduced with her kind permission) is an example of her more recent, extraordinary, work involving digitally-enhanced photographs printed onto metal to emphasize their vivid colors and luminescence.
Both Eunice (Hunt) Huf and Peter Huf, who met and married in Ajijic in the 1960s, were regular exhibitors for many years at Munich's Schwabing Christmas Market. In 1994, Peter Huf founded the market's Art Tent, and oversaw its operation until 2014.
The work of several Lakeside artists was included in a December 1968 exhibition – the Collective Christmas Exhibition – at Galeria 1728 (Hidalgo #1728) in Guadalajara. These artists included Gustel Foust, Peter Huf, Eunice (Hunt) Huf and José María Servín and Guillermo Chávez Vega.
Architect George Heneghan and his wife Molly Heneghan, a graphic designer, first visited Ajijic in 1970 to spend Christmas with Molly's parents. They liked what they saw, stayed for several years and George designed the Danza del Sol hotel in the village.
Prolific non-fiction author Joseph Cottler (1899-1996), an accomplished guitarist and violinist who visited Ajijic on numerous occasions, co-wrote (with Nicola A. Montani) a musical score entitled "Lovely babe : Christmas carol for three-part chorus of women's voices with piano or organ accompaniment" (1946).
More Christmas carols came from Regina Tor (deCormier) Shekerjian and her husband, photographer Haig Shekerjian, who were frequent visitors to Ajijic from the early 1950s to the 1980s. They co-wrote A Book of Christmas Carols (1963) and illustrated Nancy Willard's book The merry history of a Christmas pie: with a delicious description of a Christmas soup (1974).
American author Garland Franklin Clifton lived in the Chapala area in the 1960s. He wrote Wooden Leg John. Satire on Americans living in Mexico, a series of 20 letters dated from Christmas Day 1967 to Christmas Day 1968.
Charles Pollock was born in Denver, Colorado, on Christmas Day 1902. He painted for a year in Ajijic on the shores of Lake Chapala in 1955-56, producing his Chapala Series, exhibited in New York in 2007. Charles's younger brother Jackson Pollock became an icon of the American abstract art movement in the late 1940s and early 1950s.
Frieda Hauswirth Das (1886-1974) painted in Ajijic in the mid-1940s and spent Christmas 1945 in Monterrey, Mexico.
American anthropologist Frederick Starr (1858-1933) attended a performance of the Pastores (Shepherds), a Passion Play, in Chapala in December 1895 and wrote the experience up for an article published in The Journal of American Folklore.
Anthropologist George Carpenter Barker is noteworthy for his editing and translation of a copy of a manuscript found in Chapala in 1948 after a performance of a nativity play on Christmas morning in the village churchyard. The manuscript was apparently committed to paper, from older oral sources, by Aristeo Flores of El Salto, Jalisco, around 1914.
Dudley Kuzell, husband of Betty Kuzell, was a baritone in the Ken Lane Singers and The Guardsmen quartet. The Kuzells lived at Lake Chapala for many years, from the early 1950s. The Ken Lane Singers accompanied Frank Sinatra on his 1945 recording of America the Beautiful; Silent Night, Holy Night; The Moon was Yellow; and I only Have Eyes for You, and on his 1947 recording that included It Came Upon the Midnight Clear; O little Town of Bethlehem; and the iconic White Christmas.
John Maybra Kilpatrick who painted a WPA mural in Chicago in 1947, retired to Ajijic with his wife Lucy in 1964 and lived there until his death in 1972. Kilpatrick had been a commercial artist for the H. D. Catty Corporation of Huntly, Illinois. In 1952, the corporation copyrighted colored Christmas wrapping paper designed by Kilpatrick, entitled "Merry Christmas (Snow scene with 3 figures in front of houses)".
Novelist, playwright and travel writer David Dodge settled in Ajijic with his wife Elva in 1966. Early in his career, Dodge co-wrote (with Loyall McLaren) Christmas Eve at the Mermaid, which was first performed as the Bohemian Club's Christmas play of 1940.
Award-winning novelist Glendon Swarthout, whose short story entitled "Ixion", set at Lake Chapala, was later turned into a screenplay by his son Miles Swarthout as Convictions of the Heart, spent six months in Ajijic with his wife and son in 1951. Among his many successful novels was A Christmas Gift (also known as The Melodeon), published in 1977.
Guadalajara poet Idella Purnell frequently visited Lake Chapala, where her dentist father owned a small home, in the 1920s and 1930s. Her short story "The Idols Of San Juan Cosala", which we have used as our Christmas post some years, was first published in the December 1936 issue of American Junior Red Cross News and reprinted in 2001 in El Ojo del Lago.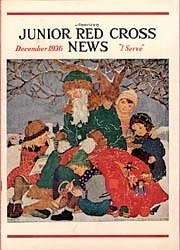 – – – – – – –
Happy Christmas! – ¡Feliz Navidad!
Note: This is a revised version of a post first published in December 2016.
Sombrero Books welcomes comments, corrections or additional material related to any of the writers and artists featured in our series of mini-bios. Please email us or use the comments feature at the bottom of individual posts.

Tony Burton's books include "Lake Chapala: A Postcard History" (2022), "Foreign Footprints in Ajijic" (2022), "If Walls Could Talk: Chapala's historic buildings and their former occupants" (2020), (available in translation as "Si Las Paredes Hablaran"), "Mexican Kaleidoscope" (2016), and "Lake Chapala Through the Ages" (2008).