Verna Aardema (1911-2000) was an American author of dozens of children's books.
She has no known connection to Lake Chapala beyond the fact that one of her books—The Riddle of the Drum: A Tale from Tizapán, Mexico (New York: Four Winds, 1979)—is connected with Tizapán [el Alto] on the southern shore of the lake.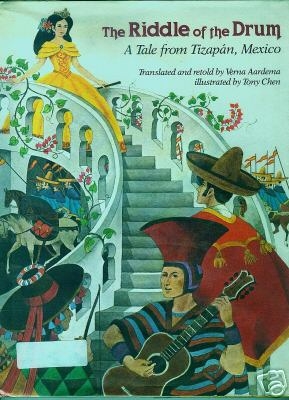 The story, illustrated by Tony Chen, is a translation and retelling of "El Aro de Hinojo y el Cuero de Piojo", from Tales from Jalisco, Mexico, by Howard True Wheeler, American Folklore Society, 35, 1943. The Riddle of the Drum: A Tale from Tizapán, Mexico can be viewed online via the website OpenLibrary.org: The Riddle of the Drum: A Tale from Tizapán, Mexico (free registration required).
The king of Tizapán has a beautiful daughter Princess Fruela. He asks a wizard to make her a special drum. The only man that will be allowed to marry his daughter must first guess what kind of black leather the drum head is made from. Prince Tuzán rises to the challenge, but knows he will forfeit his life if he fails. En route to victory, he gathers around him several unusual characters, all of whom contribute to his success.
Verna Aardema (full name Verna Norberg Aardema Vugteveen) was born in New Era, Michigan on 6 June 1911. Even as a child, she wanted to be a writer. She graduated from Michigan State University with a B.A. in Journalism in 1934, before working as an elementary school teacher (1934-1973), later combined with being a local newspaper correspondent for the Muskegon Chronicle (1951-1972).
Aardema's first set of children's stories Tales from the Story Hat was published in 1960. She started writing for children mainly because her daughter wouldn't eat until she'd heard one of her mother's stories. In most stories, the setting was somewhere that Aardema had been recently reading about, such as Africa or Mexico.
Her children's books, almost always based on adaptations of traditional folklore tales, won numerous awards. Why Mosquitoes Buzz in People's Ears (1975) received the Caldecott Medal and the Brooklyn Art Books for Children Award. Who's in Rabbit's House? (1977) was the School Library Journal Best Book of the Year. The author herself received the Children's Reading Round Table Award in 1981.
See also
This is an updated version of a post first published on 5 May 2014.
Comments, corrections or additional material related to any of the writers and artists featured in our series of mini-bios are welcomed. Please email us or use the comments feature at the bottom of individual posts.